Established in the year 2010, we, "Helios Industries", are one of the trusted firms engaged in manufacturing, exporting and supplying a wide range of Cladding and Roofing Sheets, Roofing Fasteners & Rain Water Systems to our esteemed customers. The products offered in this range are Valley Gutters, Corner Trims, L Flashings, Curved Profile Roofing Sheets, Trapezoidal Profile and Roofing Sheets. In addition to this, we offer Wall Cladding Profiles, Metal Roofing Sheets, Roofing Fasteners, Greenhouse Roofing Sheets and Color Coated Profile Sheets. These products are made from superior quality raw material, which is procured from the trusted vendors of the market. We manufacture these products in accordance with the ASTM / JIS / AS and IS standards. The products fabricated our organization are appreciated by the clients for their attributes such as flexible designs, resistance to extreme weather conditions, dimensional accuracy, low maintenance and corrosion resistance. As a result of the above mentioned factors these products are widely used in garage, sheltered walkways & security guard shelter, roof top, farmhouse and warehouse. Our clients can avail these products in different colors, gloss levels, textures and finishes.
We have a established a state-of-the-art infrastructure, which spread across 2000 meters area of land. This infrastructure is departmentalized into various units so as to carry out the involved processes in a streamlined manner. Further, we have installed various machines at our premises such as casting, die casting, cutting, lathe and other special purpose, which are operated by our expert professionals. These professionals are well-experienced in their respective domains and thus efficiently carry out the undertaken assignment. The entire range of products offered by our organization is tested on various parameters to make sure our customers receive a qualitative range of our products. Our capacious warehousing unit, which is manned by our experts enables to store the procured raw material as well as the final products safely. Further, our experts properly label the products to make sure that the consignments are dispatched safely from our disposal towards clients' doorsteps without any confusion.
Our managing partner, "Mr. Keval Vora", guides us efficiently in dealing with our valuable clients and serving their variegated needs in the best possible way. Owing to his vast experience, excellent managerial skills and in-depth knowledge, we have been able to muster a huge client-base across the country.
Infrastructure
To carry out any business activity, one needs a sound infrastructure. So in order to carry out all the business activities efficiently, we have developed a sophisticated infrastructure at Rajkot (Gujrat, India), which spreads across 200m meters. Our infrastructure has all the machinery, equipment and technology that are required for manufacturing Cladding and Roofing Sheets, Roofing Fasteners & Rain Water Systems. We also own a storage and packaging unit, where we store and carefully pack these products in a manner that these don't get harmed while transportation. Our teammates are very well aware of the operating systems of this infrastructure. At our infrastructure, we make special efforts to maintain healthy working conditions, so that our teammates are able to conveniently carry out all the processes. We own following machinery at our infrastructure:
Fastener machine
Automatic roofing machine
Barrel roofing machine
Roof sheet making machine
Cut to length machine

Our Quality Assurance
In the national market, we are known as a company that is engaged in manufacturing, exporting and supplying best quality products as per ASTM/JIS/AS and IS standards. Our company-made sheets have the ability to withstand harsh climatic conditions and are durable as these are made of high quality hot metals and other components. In addition to ensure the ability of resistance against corrosion, we provide products in various paint coatings, such as Color Coated in Al-Zinc alloy coated range (70 to 200 gsm), Colour Coated Al-Zinc alloy steel in Silicon Modified Polyester (SMP), Polyvinylidene Fluoride (PVDF) Regular Modified Polyester (RMP) and Super Durable Polyester (SDP). Moreover, our offered sheets are painted twice, first layer with primer coating to ensure best adhesion with best paint system and second coat to increase the ability to ensure harsh weather conditions. We use environmental friendly technology to ensure our products have high tensile strength of 550 mpa that is more than enough to fulfill the requirements of various application. Post production, we check our products on following parameters:
Colors
Designs
Corrosion resistance
Dimensional accuracy

Quality Certificate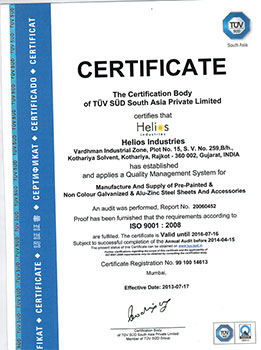 Color Range
We are having large assortment of product in large Color Range.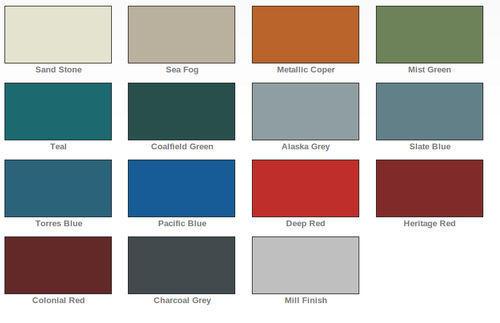 Our Team
With the constant support of our dexterous workforce, we are engaged in manufacturing, exporting and supplying Cladding and Roofing Sheets, Roofing Fasteners & Rain Water Systems. We have selected the members of this team by a stringent selection process. The selection procedure is based on the education, experience and skill tests. With the help of these tests, we have been able to shortlist the deserving candidates. Further, we conduct a personal interview, in order to check their confidence and knowledge. After employing all these efforts, we finally select deserving candidates with the potential of becoming our teammates. The main aim of our team is to make the company grow at rapid pace by following ethical practices. To ensure the growth of our organization, these teammates carry out the manufacturing process of above mentioned products. Our teammates keep themselves updated of the clients requirements and market trends. Keeping all these facts in mind our teammates deliver consignments at clients' end within stipulated time-frame. In addition, our management conduct training sessions for these teammates with a purpose to increase their knowledge of recent research and discoveries.
Our Clients
We have built a huge client-base and its increasing consistently, owing to our customer focused approach. For this reason, we frequently interact with our patrons to know their requirements and then satisfy them by delivering products accordingly at their end. All our products are developed as per the global quality standards and keeping in mind the specifications provided by our patrons. To make sure that clients get a flawless range of products, we make use of best quality raw material in the manufacturing process. We carry out the production process under the presence of experts, who carefully analyze all the activities and remove any error occurred there and then. Further, the products are checked on various parameters to make sure that these are high at below enlisted measures:
We have served our range of products to various clients including following:
Color Range TVS Motor Company
Calicut Airport
Volvo
Tata Motors
Hyundai Motors
Indian Oil
United Spirits
Reliance Industries Limited